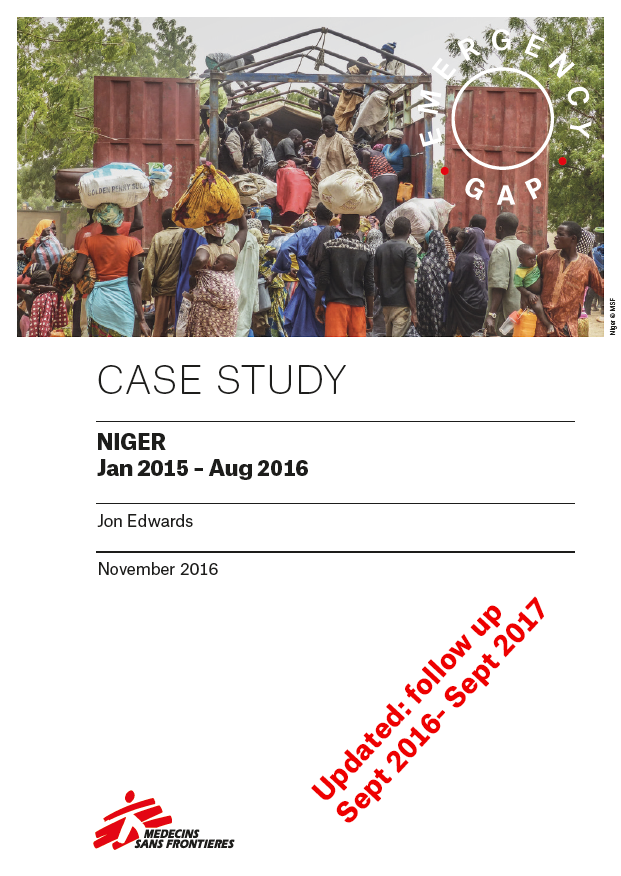 Niger, Jan 2015 – Aug 2016
This case study of the 'humanitarian system's' response to a conflict driven displacement crisis in the Diffa region of Niger explores how far that system is fit for purpose or in other words if there is an 'Emergency Gap'.
An 'Emergency Gap' here refers to a failure to achieve a level of response that can reasonably be expected, a response that is or should be within the capacity of the international humanitarian system to deliver.
This report concludes that there has been a gap in what could reasonably be expected in terms of effective humanitarian response, and that the reasons for this gap are found in an analysis of the internal dynamics of the system as much as in any external constraints.
The system struggled to deliver timely, extensive, flexible and sufficient aid because of the 1, competitive funding and coordination dynamics, 2, the influence of prevailing policy norms driving development programming and down playing the need for specialist emergency response capacity, and 3, the low appetite to challenge security orthodoxies and limits to access imposed by military authorities, in part due to a complacency with regards to the amount of easy access work available.
The report notes that the emergency response to date has certainly saved many lives but suggests that systemic changes as well as changes to the approach and mindset of individual actors will be necessary to improve the quality and reach of the ongoing crisis response.
February 2017: follow up report covering period Sept 2016- Sept 2017